This post brought to you by White Cloud. All opinions are 100% mine.
The Workaholic and I are such TP snobs. We use this like 83-ply TP that requires 1 whole 398 year old tree per square. Being that I really do care about the environment and sustainibility, it does bother me that I'm using an entire old growth rain forest every time I buy a pack of toilet paper.
The problem with other TP is that it's just not strong enough, you know? I don't like having icky hands when I wipe.
Gwoss.
But I really straddle the line of being more sustainable and using effective paper products in my home. I also really straddle the budget line where breaking the bank to be sustainable meets "let's get real about what we can afford".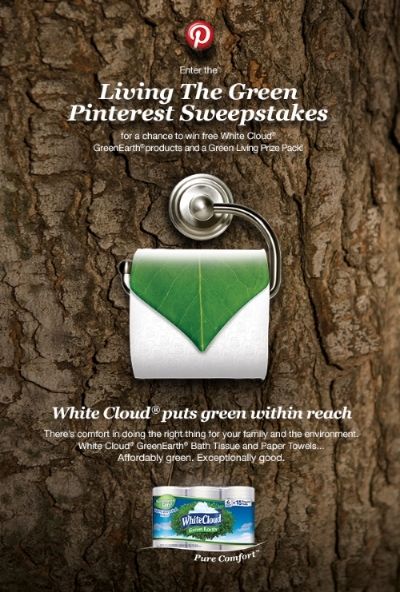 White Cloud, a paper product line sold exclusively at Walmart, is now offering a new line of eco-friendly paper products called GreenEarth. These toilet papers and paper towels are made from 100% recycled fibers and are guaranteed to not break the bank with their affordability. Living the Green does NOT mean you have to sacrifice quality or your budget. WIth GreenEarth, you not only get a product you can afford, you don't have to sacrifice quality to get the job done. GreenEarth products maintain a Forest Stewardship Council certification so you don't have to worry about downing an entire old growth rain forest every time you purchase a pack. Check out their products on the White Cloud GreenEarth products page.
Sustainbility and living the most eco-friendly life is something that we are trying to do naturally, as a family. We used cloth diapers on our daughter and on our youngest son until he was about 15 months old. I was just at a point where I couldn't handle the mess anymore so I switched to disposable diapers and I hated every diaper change from an eco standpoint. That is largely why I potty trained him the week he turned 2. Eliminating the diapers from our household greatly reduces our eco footprint and I'm really proud of the efforts that I made.
We are teaching the kids to recognize the difference between a recyclable product and trash. We are also doing our best to teach them to turn the lights off when they leave a room but that's something even I struggle with.
One of the most important steps that we've taken towards a more eco-friendly life is to start using homemade and eco-friendly cleaning products.
Since we're already doing the whole potty talk thing, I'm going to share my favorite toilet bowl cleaning recipe. This recipe is great for families who have animals (or children) who like to drink out of the toilet. It doesn't leave any harmful chemical residues, nor does it emit asthma inducing or hormone blocking chemicals into your home.
The Ultimate Toilet Bowl Cleaning Solution

Ingredients

-3/4 cup baking soda
-3/4 cup white vinegar
-10 drops of tea tree oil
-10 drops of grapefruit seed extract

Do it Like Me

Combine baking soda, tea tree oil, and grapefruit seed extract. When you are ready to tackle those toilets, add the vinegar and stir to combine. Use the solution in your toilet and scrub with a toilet bowl brush.

NOTE: This recipe is one-time use and will not store for future use. If you are cleaning more than one toilet, you will want to double, triple, or quadruple the recipe depending on how many toilets you are cleaning. In that case, you would dump about 1-1/2 cup of solution in each toilet.
White Cloud is running a Pin it to Win it "Living the Green" Sweepstakes. This might be the easiest Sweepstakes to enter in the world! 1. Simply visit the White Cloud Pinterest page and Follow their boards. 2. Create your own "Living the Green" Pinterest board, then 3. repin at least one pin from the White Cloud "Living the Green" Pinterest board to your board. Make sure you include the hashtag #LivingTheGreen in your pin's caption. 4. Visit http://mywhitecloud.com/promotions and complete the sweepstakes entry form.
If you need any clarification, visit the Sweepstakes Rules and Regulations page. And guess what? NO PURCHASE NECESSARY. Ends 4/30/13. Click here for Official Rules.
While you're at it, connect with White Cloud and Follow White Cloud on Twitter or Like White Cloud on Facebook.