I can't believe Styles is going into middle school.  It's ridiculous how time flies.  I feel like just last week I was shipping him off to Kindergarten where he made me wait down the hall so he could go by himself.
He was so big then.  He shoo'd me away like he was embarrassed of me and ran down the hallway, never looking back.  His white hair was just flying in the disturbance of air around him and his skinny legs were going as fast as they could go with his heavy new backpack attached to his spine.  I didn't cry, just laughed.
And now we are going into the 6th grade.  My little boy has become a young man and it makes my heart quiver with longing for the past.  I'm not generally a sentimental person but my relationship with Styles is a special one.  It was just the two of us for 5 years and we did everything together.  I was even that hippie mom with her 5 year old at a Dave Matthews Concert.  He is an awesome kid and I would like to think that our years alone taught him to be who he is today.  I am also so entirely proud of his academic achievements.  He is always either on the All A Honor Roll or the A/B Honor Roll and he exceeded expectations on the CRCT in Georgia last year in EVERY category.  He's witty and hilarious and he just knows WAY too much for a kid his age.
He blows my mind.
So I decided to compile a few of the things that Styles picked out for his basic Back to School gear – Middle School Edition, and share them with you.
Disclaimer:  I prefer to spend a little extra money at the beginning of the school year on things that will last all year long instead of having to replace them half way through the school year.  QUALITY is our #1 determining factor when purchasing an item and its COOL FACTOR is #2.
I hope you enjoy!
Backpack:
There are some GREAT companies out there that sell backpacks and other luggage.  There is the tried and true Jansport, my personal favorite from High School: North Face, Kelty, 31, and Eastpack.  But when I found out that Lands' End sold backpacks I had to check them out.  Lands' End is known for their superior quality clothing and outerwear.  I figured they would definitely have something to offer in the backpack department.  I almost fell out of my chair when I saw the Comic Strip ClassMate backpack.  The print on it is something that I KNEW Styles would flip for.  When I showed it to him, he said that he HAD to have it.  I didn't purchase it right away because making a $50 commitment for my 6th grader felt like losing $1M on the stock market.  He's HORRIBLE to his backpacks and has a horrendous track record with ripping a shoulder strap off within a week, or tearing a seam half way through the year.
A few days later he came and asked when his backpack was going to get here because he couldn't wait to see it.  He was vibrating with excitement so I caved and bought him this awesome backpack.  Lands' End does a really cool thing.  They reinforce the bottom of their backpacks for those backpack-dragging-kids like Styles.  It is made of heavy-duty 600D Polyester with a 1200D Polyester bottom.  The print is fun and different so Styles will stand out in a crowd – as though the shock of white hair on top of his head wasn't enough!
And it has a few extras on it like a reflective strip, a water bottle holder;  places to hang a hat, helmet, or coat; and has a sternum strap for extra back protection and comfort.
Another bonus to spending a little extra money on a backpack?  That whole ergonomic thing.  Our children's backs are important and springing for something that is going to protect them is worth every penny.
The Lands' End ClassMate backpacks start at $39.00 and go up to $49.00.  They also have an entire collection of matching lunch gear, as well as some other fun prints for boys and girls alike.
Lunch Box:
I came across this lunch bag at The Land of Nod while looking for a backpack for Grady.  I thought it was the most unique and wonderful lunch bag I had EVER seen.  It is insulated, tear-proof, leak resistant, has a magnetic closure, and you can DRAW ON IT!
It reminded me of when Styles was in Kindergarten.  I used to send his lunch to school in a paper sack but I drew on it with markers or crayons EVERY morning so that he had a decorated and special lunch bag every day.  Is it still OK for me to do that now that he's going into the big Middle School?
Maybe we'll find out.
This lunch bag has "cool" written all over it and with "limited quantities" at Land of Nod, it's possible that your kid could be the only one at their school pulling their PB&J from this sack.  Plus, it wipes clean.  What more could I possibly ask for?
The Brown Paper Bag Lunch Bag retails for $19.99.
Pencil Pouch: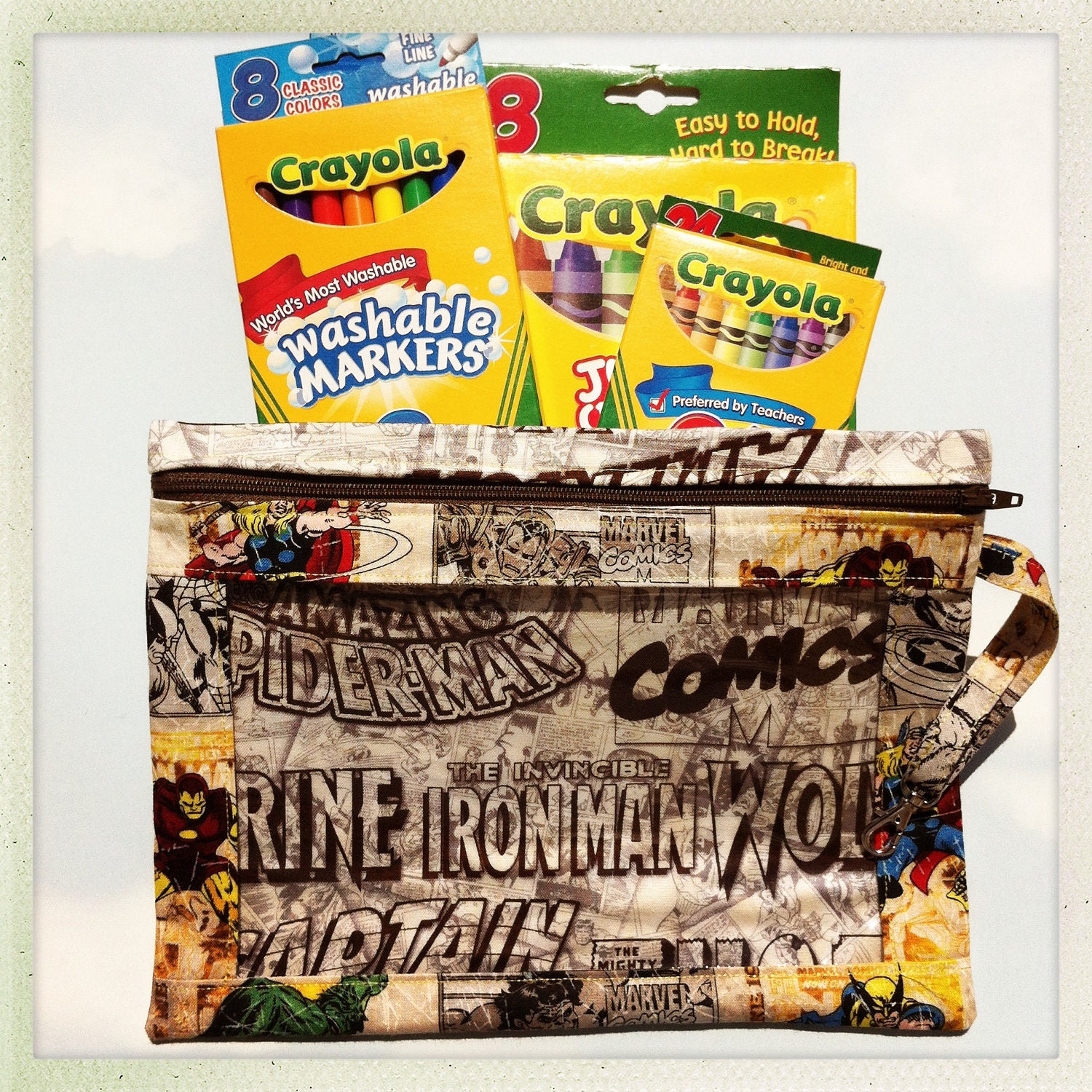 In keeping with the whole Super Hero theme, I found this cool Pencil Pouch from Etsy.  It's perfect for a middle school boy who likes comic strips and it's handmade!  I LOVE supporting small and at-home businesses.  Etsy is one of my favorite places to shop for just about everything and I knew I could find something unique there.
If Styles was a girl, I would have splurged on the Lined Paper Fabric Pencil Case.  I.  LOVE.  IT.  It can be personalized to say whatever you want it to say and retails for $28.00.
The Marvel Superhero Pencil Pouch retails for $12.50.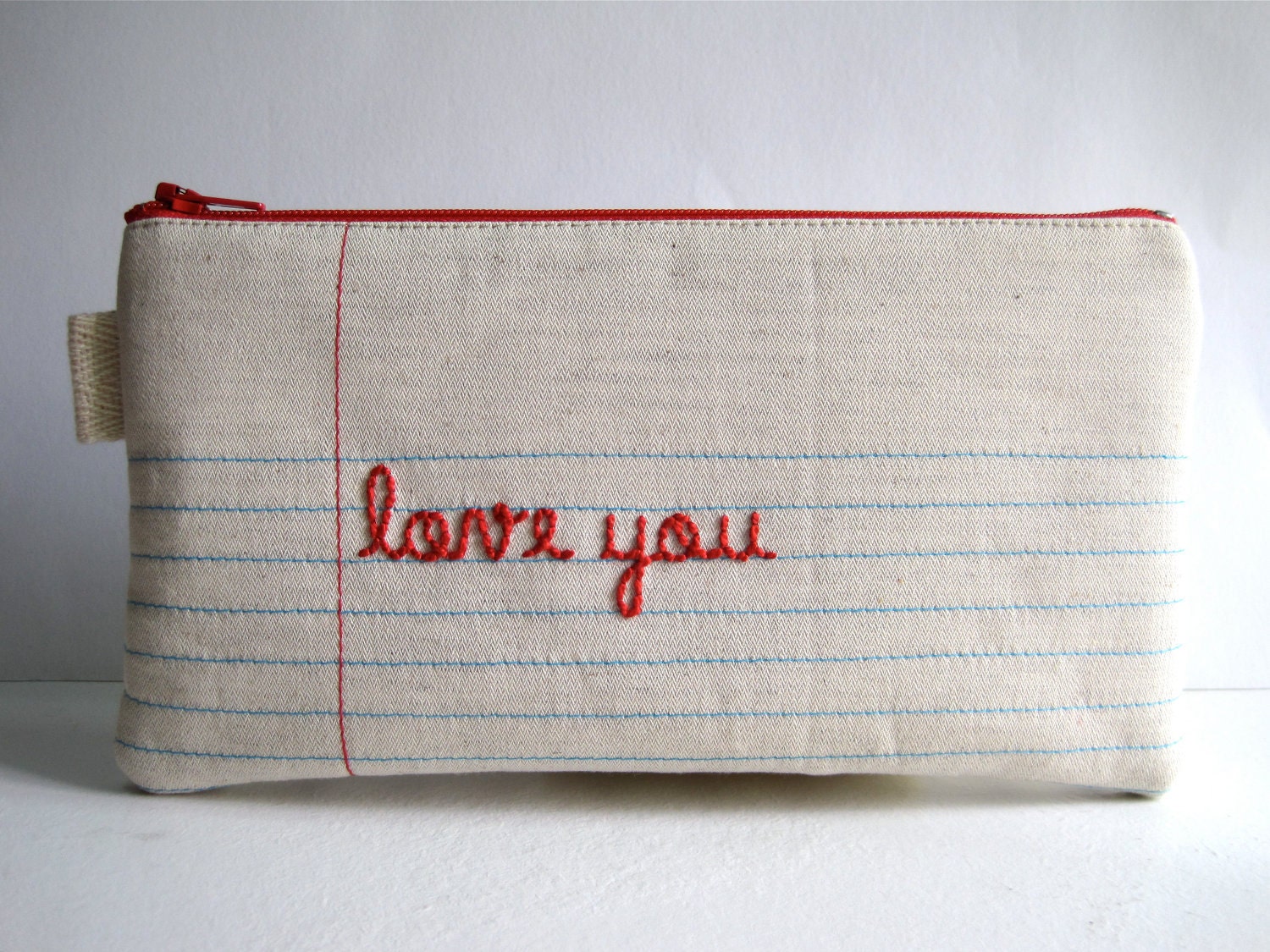 Shoes:
All of my kids LURVE shoes.  Styles is not extremely picky about what he will wear, but Madilyn has a very clear idea of what she likes.  I was fortunate enough to catch a KEEN sale on Zulily today and we stocked up on shoes for the school year.  I wanted some casual shoes for Styles and something that he could use as gym shoes as well.  KEEN has a SUPER cool technology in the soles of their shoes that harden during cold weather for extra grip on the ice.  With our recent move to North Carolina, I thought that was a relatively important technology.  I also want shoes that will last all year long, are fashionable, and can go with nearly every outfit.  KEEN are great shoes for outdoors but they also have more casual styles to go with any outfit, winter boots for boys and girls, and aqua sandals for the summer.
KEEN shoes retail for anywhere between $35.00 & $65.00.
Erasers:
Styles says that erasers save him and that he LOVES erasers so I thought that including them in our list was a must.  He is obsessed with LEGOs and most recently, Angry Birds.  We found some at Target but you can order them from Amazon if you prefer to shop online.  I found some Lego erasers on etsy that retail for $11.35.
Do you remember when erasers were the ULTIMATE accessory at school?  I loved the scented ones, and the little citrus-looking translucent erasers.  Apparently erasers are still super cool.
Moms don't let kids go to school with pink erasers.
Especially when they could take cookies instead.